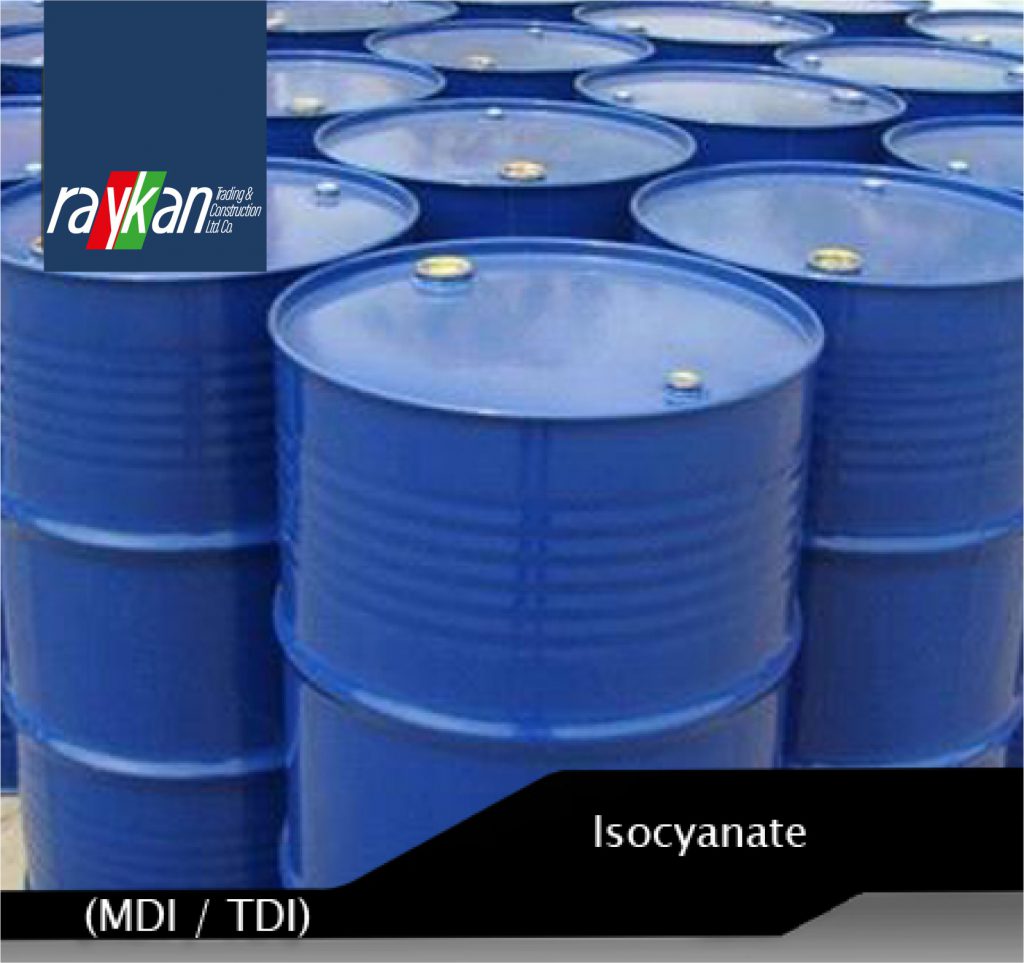 TDI
Toluene diisocyanate (TDI) is a colorless to pale yellow liquid with a pungent odor. TDI can have different forms or isomers. TDI isomers have the same chemical formula C9H6N2O2, but the atoms are arranged differently. So, the term "TDI" represents the isomeric compounds along with mixtures of these isomers.
Applications:
TDI is commonly used to manufacture:
Flexible foams: used for the fabrication of bedding, furniture, automotive seating, flexible packaging and carpet underlay; this is the largest market application for TDI.
"Foamed-in-place" polyurethane plastics – ranging from soft and sponge-like to hard and porous for use in furniture, packaging, insulation and boat building.
Polyurethane coatings – used on leather, wire, tank linings and masonry.
Elastomers: used to produce adhesives, films and linings, and abrasive wheels and other mechanical items that require abrasion and solvent resistance.
Rigid, "pour-in-place" foams – for use in appliances, and, in smaller amounts, packaging
Urethane sealants – used in construction applications.
Cast elastomers: for production of articles such as rollerblade wheels
MDI
Methylene diphenyl diisocyanate, most often abbreviated as MDI, is an aromatic diisocyanate. Three isomers are common, varying by the positions of the isocyanate groups around the rings: 2,2′-MDI, 2,4′-MDI, and 4,4′-MDI. The 4,4′ isomer is most widely used and is also known as 4,4′-diphenylmethane diisocyanate. This isomer is also known as Pure MDI. MDI reacts with polyols in the manufacture of polyurethane.
Applications:
Pure MDI is commonly used to manufacture:
Flexible foams – used for the fabrication of bedding, furniture, automotive seating, flexible packaging and carpet underlay; this is the largest market application for MDI
"Foamed-in-place" polyurethane plastics – ranging from soft and sponge-like to hard and porous for use in furniture, packaging, insulation and boat building
Polyurethane coatings – used on leather, wire, tank linings and masonry
Elastomers – used to produce adhesives, films and linings, and abrasive wheels and other mechanical items that require abrasion and solvent resistance
Rigid, "pour-in-place" foams – for use in appliances, and, in smaller amounts, packaging
Urethane sealants – used in construction applications
Cast elastomers – for production of articles such as rollerblade wheels